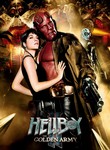 Sly B and I went to see

Hellboy II

when we got home from Albuquerque. Man, what a flick! I'm pretty sure that Hellboy -- or at least Ron Perlman's depiction of him -- is my favorite comic-to-film character. He is hilarious. I hope that they make 10 more, and that Perlman stars in each one and that Guillermo del Torro directs them all. What a concept.

I loved this one as much as the first. This was was fun because there was more Abe Sapien, the introduction of Johann Krauss, more kitties, and fewer Nazis. This is an absolute must see unless you are dead inside. 5 out of 5 nipples.